The Elite Futbol Camp Staff
Michael Mordocco,
Head Coach - LIU Post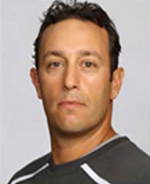 Michael Mordocco became the new Head Men's Soccer Coach of the LIU Post Pioneers in the Spring of 2018. Previously, Mordocco held the position of Associate Head Coach at the University of Massachusetts for three seasons. During his time with the Minutemen, he was a part of a staff that earned 2017 Atlantic-10 Coaches of the Year, while also leading UMass to a conference title and NCAA Tournament appearance. Mordocco also spent four seasons at UConn, helping his alma mater capture their 13th regular season conference title. In addition to his roles at UMass and UConn, Mordocco brings several years of collegiate experience as an assistant at Division I Stony Brook University and SUNY Oneonta.
Accomplishments
National Championship 2000
College Cup Final Four 1999, 2000
NCAA Elite Eight 1999, 20002002, 2011, 2012, 2013
Big East Championship 1999
Big East Regular Season Champions 1998, 1999, 2000, 2001, 2012
America East Champions 2009
AAC Regular Season Champions 2014
A10 Regular Season Champions 2017
A10 Tournament Champions 2017
NCAA Tournament Berth 98', 99', 00', 01', 02', 09', 11', 12', 13', 17'
17 Players Drafted to the MLS 2007-Present